I have been working out at home for a year now and I thought that I would share some of my secrets to help you get the most out of your work out.
I love working out at home. It saves money and I can fit it into my schedule accordingly since I work like a maniac (seriously, a day off, what's that?).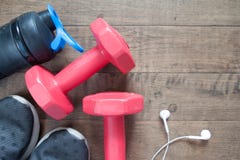 There is a rumour that because you don't have access to "machines" that you aren't getting the most out of your workout.
I'm here to tell you that's not true, it all comes down to hard work, consistency, and dedication.
Silicone Sock
I may have a weird obsession with these. I have several pairs of the ones pictured above. These are silicone socks for yoga however they're perfect for working out at home.
Realistically I don't wear shoes inside my house so these are perfect for gripping the floor whether you're on hardwood or carpet.
For those with sensitive feet, the silicone beads on the bottom of the socks can not be felt and are very comfortable.
I recommend these for any activity when working out indoors at home. They will improve your grip and performance.
Lip Balm or Chapstick
Unfortunately with hard work and strenuous exercise comes dry and dehydrated lips.
Although I have talked about the  EOS Sphere Lip Balm not being my favourite on a makeup level. It is my favourite when it comes to working out.
Here's why.
When you work out multiple days of the week this product is cheap and lasts forever. It will keep your lips hydrated for your whole work out and will not wipe away when sipping water.
Another Favourite of mine is the Burt's Bees Replenishing Lip Balm. This is the product is 100% natural and has a mild pink tint to it.
I'm not saying you need these products, in general, to work out. Just have lip balm or chapstick in your workout area to keep your lips from getting dehydrated.
Basic Equipment
A Chair
If you read 3 At-Home Exercises Using A Chair, then you already know I love using everyday items to change up my routine.
Chair exercises are great because a) you will feel like a burlesque dancer and b) can exercise your whole entire body for free.
Dumbells
Dumbbells are great for changing up exercising or just simply diversifying them. Personally have multiple sets of dumbells to change up resistance, exercises, and reps.
I recommend having at least one pair of dumbells to be creative or to push yourself performance wise.
Resistance Bands
These are another creative way to push yourself and build strength at the same time. Resistance bands are cheap and there is a wide variety of tensions to help train your body.
This is a great way to replace A LOT of exercises that "machines" at the gym would target.
Yoga Block
When I got my yoga block, I thought it was a lame tool that couldn't possibly improve my performance.
WRONG! Very Wrong.
When I started using this to started elevating my exercises I found out the hard way this simple piece of equipment can take you from being sore to lying in bed.
Yoga blocks a great for increasing elevation for an array of activities and increasing stability. Despite the name, you don't have to use it just for yoga.
I personally like using yoga blocks to elevate my core exercises.
Personal Future Goals
My at home workout space is a constant work in progress like myself on my weight loss journey.
In the next year, I hope to get some new mats, a bench, heavier dumbells and some kettlebells.
This way I'm keeping myself engaged in fitness as well constantly changing up routines by keeping them creative.
What are some things that help you with your at home workout? Let me know in the comments and don't be afraid to give this post a like!
You can also follow Lidsandtricks on Pinterest, Twitter, Instagram, Facebook and Bloglovin'.